Note: This is Part I of IV of a series of hybrid, album/live performance reviews involving bands who performed at The Middle East Upstairs in Cambridge, Massachusetts on the evening of April 17, 2016.

One must exercise caution when indulging the doom that Makavrah reveal to their audience: the vision they evoke proves to be murkier, its vehicle of disaster less certain, than one might assume initially. This Peterborough, NH quartet's doom is not a straightforward plodding, ostentatiously inevitable doom but, instead, a descending doom. Before this characterization conjures up the image of a sublime destroyer angel dispatched from the heavens to condemn the earth and its inhabitants, those who listen to Makavrah's music should be aware of this important twist.
Powered by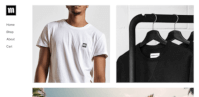 Create your own unique website with customizable templates.